When the world changes, safety culture can make or break a business faster than the blink of an eye.
If a business does not put their employees first, their safety, somebody is bound to get hurt.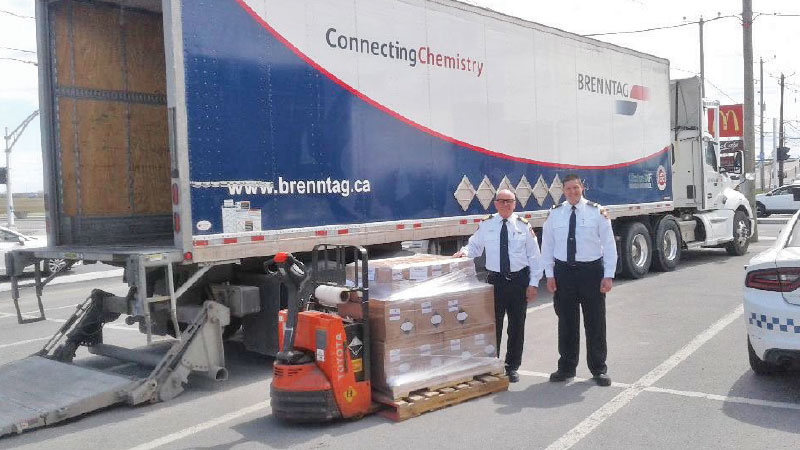 That's why procedures, integrity, and customer relationships are pillars that a company must stand on when it comes to safety, Rick Companion, Director of Logistics and Transportation at Brenntag Canada says.
"These pillars are focused on safety before we do anything else – whether it be engaging with a carrier, customer, supplier – safety is our number one focus when we're talking about culture."
At Brenntag, it starts with training.
"Training is within the umbrella of our transportation system," said Companion. "In terms of how we've developed it, I've taken it from the model that what we had. It was just a matter of truly developing and expanding on what we already had as a baseline."
In September of 2018, Brenntag Canada acquired Canada Colors and Chemicals through a merger. The standards set at Canada Colors and Chemicals has transformed into an employee-first safeguard for the employees after the company evolved.
"It's about safety beyond anything. We don't just hire people, give them the keys and say 'go' – our culture ensures safety is at the forefront and we're doing the right things for our drivers."
Brenntag Canada currently has 32 drivers, 30 tractors, and 50 units (flatbeds, dry vans and tankers), though the numbers are consistently changing. They are not a large fleet, but a steadily growing competitor.
"When a driver's hired [at Brenntag], we want to take them from not knowing anything about our culture, safety procedures and work around developing by using our procedures but giving them a baseline using online training, available via CarriersEdge," said Companion.
CarriersEdge is an online video platform, which claims to allow fleets to improve their business performance by improving the quality of their drivers, and do so without the sacrifices traditionally require, such as disrupting company operations or driver home-time. It then reports to company management, which allows for the company to identify gaps in driver knowledge.
After management reviews the driver's scores, they are logged into the driver's profile. Then, the driver embarks on a two to three week venture with a 'team buddy'. Brenntag allows the new driver to drive, while the team buddy coaches them on where they're going, what they need to do, all their safety protocols – everything from securing the load to pre and post-trip inspection, interaction with customers, to contacting maintenance people if a truck breaks down.
"At the end of the day, we're driving out in the community – on the road, highways, streets," said Companion. "We want to make sure that we're doing what we're supposed to be doing when our fleet is out there."
An important part of maintaining the pillars is the bi-annual ride-along that fleet supervisors and managers do to see how their drivers are interacting, doing pre-trips, maintaining the trucks, interacting with customers, securing loads, inspecting empty drums. The ride-along takes a full day, so the full aspect of the driver's performance can be adequately assessed.
"If you're with them, generally speaking, for the entire day, they tend go back to their normal behaviour," said Companion. "It's about coaching the drivers – not disciplining them – so they understand where we're coming from. At the end of the day, if we can avoid one accident..."
Accidents can be fatal even though driving a big transport truck can make an employee feel protected. Rick tells employees, 'You never know what the outcome will be.'
If a driver checks in and isn't feeling well, feeling like they can't continue safely, Rick encourages them to stop at a motel and pays for their dinner and breakfast. It not only keeps their employee safe and keeps the roads safe; it is more effective than having to send a tow truck and being unsure of what's happening with that employee. Rick doesn't care if they are local or regional; he says it is easier to explain a $200 bill than a truck going off the road.
"I've seen many wrecks on the road in my day," said Companion. "The driver doesn't always win and go home. That's what I'm trying to encourage. My job at the end of the day is to make sure that you come to work in one fashion and you go home to your family in the same condition you came to work in."
Being out on the road can be dangerous, but especially since the COVID-19 pandemic began. Companies around the world had to adopt new protocols to keep their employees – drivers and non-drivers alike – safe from illness and harm. This changed many things about how drivers did their job, but especially how drivers interacted with customers.
"We've always encouraged our drivers to walk through our facility, to interact with customers and various departments," said Companion. "We now have to practice physical distancing. We made sure there was one designated office for the drivers and they had ample room to change, shower, make coffee, do their paperwork without being exposed to exterior elements."
The goal Brenntag set was to make sure drivers were comfortable and provided with the right PPE. New protocols were set, including implementing the mandatory six-foot separation and not collecting signatures anymore from customers. Every time a driver interacted with a customer, they had their mask, gloves, and followed the protocols.
"It's been challenging and we had to do a lot of work-arounds to make things happen," said Companion.
The company also worked to provide different washrooms for people to use so the employees had a dedicated space. Furthermore, other employees are not allowed to be at the site without Rick's, the Director of Transportation and Logistics', or HR's approval.
Since March, he has had meetings twice a week with drivers, the Vice President of Brenntag Canada, and Human Resources, to discuss issues and provide solutions to keep drivers safe and on the job.
If you don't have the right culture and regulations, you will be paying out of pocket. To quote Companion, "You can't prevent everything but you can put all the right protocols in place."
To learn more about Brenntag, visit
www.brenntag.com/en-ca.